Tantric Healing
Tantra Centre in Ireland
run by
Quiet secluded rural retreat providing
tantra courses, Relationship workshops, Traditional healing
And one to one private sessions for individuals and couples
For directions to the Center HOW TO FIND US - click here
This beautiful peace filled centre

caters for individuals and small to medium sized groups

It combines a range of facilities with it's natural rural setting.

There are seminars, workshops and vision quests

on a wide range of areas

concerning tantra yoga, relationships and natural traditional healing.

Other programs are also available

encompassing shamanism, angels, dowsing, growth & renewal

and spiritual life path issues.

A wide range of tantra healing techniques, shamanic healing work, life path readings and individual life path mentoring and much more.

...
CLICK HERE FOR FULL DETAILS OF PRIVATE TANTRA SESSIONS
CLICK HERE FOR FULL DIRECTIONS TO THE CENTER - HOW TO FIND US
GENERAL INFORMATION

THE CENTER IS ...

centrally located - only thirty minutes drive from Dublin.

totally secluded - a quarter mile from the nearest public road.

with spectacular views - set into the mountain side, overlooking a River Liffey Valley and the rolling hillsides of Seafinn and Kippure.

in a natural setting - with an endless variety of nature walks and trails, through local forests, wild mountains and winding country lanes.

The centre also enjoys a private peace garden with sacred space and quiet meditation relaxation areas.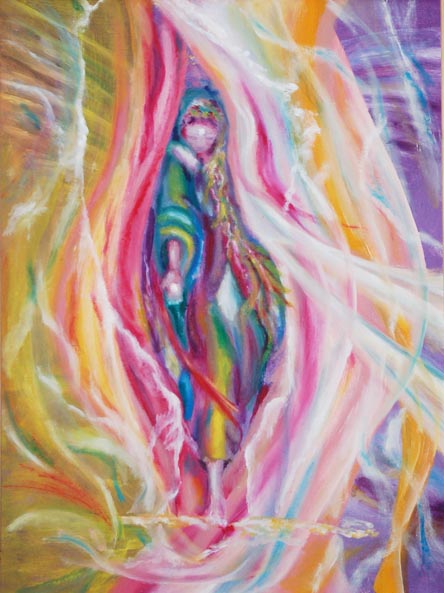 Spirit of ANAM painting by Joe Mullally hanging in the Center
FACILITIES AVAILABLE
250 sq. ft. of recreation and workshop floor space
Toilet/washroom and separate shower facilities
B&B overnight accommodation arranged locally as required
Peace garden and meditation area
Extensive countryside and forest walks
Reserving a place on a workshop or a private session:

Reservations are made initially by contacting the Center using one of the options below. Payment of the deposit amount due for the workshop, confirms this booking and your place.
click above to listen to an interview with Joe Mullally of Tantra Yoga Ireland
on Authentic Love and Relationship.
(SOURCE: Interview with Marie Angeline Lascaux on Dublin City FM Radio)
-------
This site carries a wealth of insight and information
dedicated to the simple natural joy of living from the heart
We encourage you to live life to the full,
being true to YOU, celebrating your nature and beauty in whatever brings you happiness
The ANAM Holistic Center is a rural retreat Nature and Tantra Yoga workshop space,
offering a wide variety of tantric yoga relationship & spiritual development programs,
including private sessions, mentoring and support for both individual & couples.
We are happy to accompany you on your personal journey
reclaiming and reawakening
the unique exquisite individual sacredness
of YOU.